Meet Pillar Design Team
Genevieve Liesemeyer, Owner of Pillar Design Group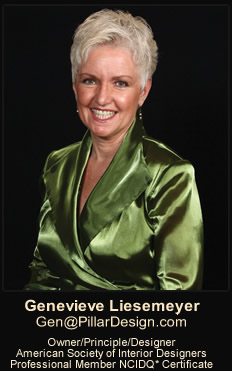 As an educated and trained architectural interior designer with 22 years experience in the design industry, Genevieve is a Wisconsin licensed interior designer, tested and recognized by NCIDQ to be a nationally qualified interior designer.   She is a membership of ASID, NAWBO, National Association of Home Builders, and 50 Plus Council. Her local memberships include of the Metropolitan Builders Association, Remodelers Council, Care Wisconsin and Senior Resource Group. Genevieve is also a Certified Aging in Place Specialist (CAPS) and has completed the Dementia Training and Aging 101 program through the Alzheimer's Association.
She is proficient in AutoCAD 2007 with the ability to generate full set, conceptual drawings, complete with elevations, sections, and specifications. With 22 years of experience providing total interior development for corporate, healthcare, dental and living environments, Genevieve is a uniquely qualified designer. In 2010 she partnered with Gerontological Clinical Nurse Specialist Rosina Bloomingdale to provide a most comprehensive service to help seniors adapt, modify or build living spaces that maximize activities of daily living and enjoyment of life.
Genevieve keeps herself current by attending major design conferences such as Healthcare Facilities Symposium, Healthcare Design Conference and the International Builders Show where she attends classes and evaluates products. She also attends the Chicago Midwinter Dental Meeting and National Kitchen & Bath Show to stay current on product innovations.
As a self directed business owner since 2000 Genevieve has a proven track record of leadership, dependability, creativity, problem solving, adaptability and strong organizational skills.  Her extensive experience with large team design, human resource management, and project oversight with an emphasis on client centered vision and communication makes her powerful asset to any project.
Rosina Bloomingdale,Gerontological Clinical Nurse Specialist –Health Care Design Consultant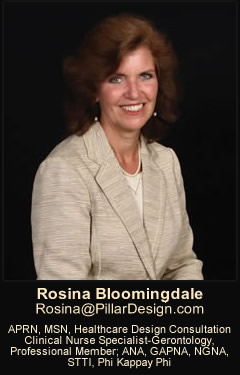 Rosina Bloomingdale is a mastered prepared advanced practice registered nurse with a specialty in older adults (Gerontology).  Rosina received her BSN from the University of Iowa in 1980 and her MSN in 1993 from UW-Milwaukee.  She has practiced in the areas of Med-Surg, Critical Care, Home Care,  Home Hospice, Case Management within Group Homes, State of WI Protective Placement Assessments of Older Adults and Instructor at Cardinal Stritch College.
In 2009, she began her practice in the area of healthcare design.  She maintains and promotes her knowledge base by annually attending several professional nursing and healthcare design conferences.  Rosina is committed and passionate about the influences of the living and work environments on psychological, cognitive, social and physical functioning.  Her practice is committed to her belief that good personalized (person-centered) design can have profound positive influences on the health and well-being of each person.
Professional memberships: American Nurses Association (ANA), Wisconsin Nurses Association (WNA), National Gerontological Nurses Association (WGNA), Gerontological Advanced Practice Nurses (GAP-SIG), American Geriatrics Society (AGS), Gerontological Society of America (GSA), Changing Attitudes Regarding Elders (CARE WI)
Honor Societies: Phi Kappa Phi, Sigma Theta Tau
To confidentially discuss your projects with Pillar Design Services call 262-363-0575 or contact us by email.